Ph : (+91) 9973363664
janjagranbihar@gmail.com
ACTIVITIES
Dear Friend,
Greetings from the JJSS! It has been a happening year for us with new friends joining and old ones continuing their support. Ashish left his job at BIT Mesra to join us full time in Araria. Jaimanti has joined the youth team this year, becoming the first young woman to engage with the sangathan in the youth team. She is based in Katihar district.
This mail is an attempt to consolidate what happened in the JJSS in 2015. Some of it has already been shared on facebook and blog. If you have the time and energy you can get a full detailed update of the Sangathan's work on the blog. This mail is an attempt to update you with the sangathan's work without you having to read through a tome :)
And as usual please take a couple of minutes to make/renew your pledge to support us. To do so please send an email to Ashish at ashish.ranjanjha@gmail.com (ph: 9973363664) for bank details. You can always send a cheque in Indian Rupees at A-5 Siddharth Apt., Jagdeo Path, Patna -800014.
Bihar Elections
One of the most talked about topics this year was the Bihar State elections. The JJSS took a clear stand against divisive politics, reminding ourselves that no matter who comes to power after elections we would prepare ourselves to struggle for our cause. The entire effort was seeded in path breaking 'chintan shivir' and natak karyashala (theater workshop), from 30th May to 4th June. We invited the most active saathis to sit together to find a way of attracting people to the sangathan who are committed to socio-political change and not only those who are looking for immediate solutions to their daily problems. In this workshop all of us together with Shiv Bhai's able facilitation came up with our own play. We took this play to village after village through cycle yatras. Then came the Jan Sansads (people's assembly) in which people's manifesto was discussed and finalised. Finally we went back to our village saathis with the manifesto that was put together in the Jan Sansads. What started on 30th May went on as a campaign till 5th November, when the last vote was cast in Bihar.
Read more here
Mazdoor Mela
May day celebrations in form of a travelling mazdoor mela was held on 1st May, 2015 in the Raniganj High School. Thousands of saathis from sangathan areas, flocked the mela. This day also marked the 3rd Aam Sabha (General Body) of the Sangathan. A new working committee, with Ranjit Paswan as the General Secretary was elected in the Aam Sabha.
Read more here
Building Democracy Within
However, while we catered to these large events and campaign, we have kept our commitment to building a democratic organisation and had regular meetings, workshops et al. As part of this commitment the JJSS working committee and executive committee meets on every Ambedkar Jayanti (14th April). This year Rahul Bannerjee of the Khedut Mazdoor Chetna Sangathan, visited us. He connected our local struggles to the exploitative structure of World Bank, IMF and WTO.
Read more here
Think Globally, Act Locally
And though we are thinking globally, we continue to act locally raising issues of non-payment of wages in NREGA, corruption, execution of the new National Food Security Act, land issues and others. The most recent was the wonderful initiative of our new unit in Patepur block, Vaishali where they went on an indefinite satyagrah, after the local Programme Officer (NREGA) refused to address their issue of non-payment of wages in NREGA. Interestingly our saathis carried their own firewood, rations and bedding to spend time at the block. Satyagrahis got up only after the payment was made and a written assurance was given to solve the other issues.
Read more here
Aadhaar Campaign
One of the most challenging campaigns for the sangathan this year was the Aadhar Campaign. In this campaign we raised our voice against the illegal extortion of money for Aadhar enrollment. Nine FIRs were filed and in many cases equipment being used at these enrollment centres were ceased. Despite warnings at all levels precious little was done by the UIADI. Enrollment agencies would have illegally collected crores of rupees from poor workers of Araria. A commentary on this whole episode was shared with you on our blog.
Read more here
Buniyadi Nirman
And even as the struggle continued buniyadi nirman has continued- the cinemawala, giving wings to children's imagination has become more active as more young people are being actively trained in the sangathan to engage with children. The summer internship which identified 15 such young people and trained them to do children's camps was one such major effort. The interns have also brought out wall newspapers on their experience, along with Manira they have made videos, engaged with Play for Peace and above all got the confidence to interact with the outside world.
Our nirman work has also meant that we had a chance to do women's workshop with a group of about 25 saathis, we met four times in this last one year creating a space for ourselves. In this space we collectivised our joys, our sorrows, our preference and society's preference for a male child, the violence meted out to us. We played, we sang, we laughed, and you may believe it or not but we sometimes cried.
Read more here
Men's gender workshop
When the women in the sangathan sat together, the men were upset by this 'discrimination'. To address this concern there were discussions to explain the need for women to sit separately and a proposal for a men's group to sit separately. The first men's workshop was conducted beautifully by Nasir Bhai and Ashish, with a team of women playing a support role. The next men's workshop is scheduled for January, 2016.
Read more here
Upcoming events
3-4th December: Youth workshop to do village camps with children
Samaaj – Sansadhan– Sanvidhan Bachao NATIONAL CONVENTION & Felicitation of Intellectuals, Writers and Cultural Activists; 6 December 2015 | 9 AM – 5 PM; Gandhi Peace Foundation, Deen Dayal Upadhyaya Marg, New Delhi, 110002
JJSS Karyakarni to meet on 15-16th December, 2015
Last week of December: Pension Parishad organises Jan Sunwai, meeting parliamentarians and press conference in Delhi to bring to the fore front the issues of universal pensions during the winter session of parliament.
5-15 January: Discussion on taking a step forward in the direction of taking a sthayee education intiaive, Intern Workshop by Nasir Bhai: Apna Akhbar, Men's gender workshop, Women's 2nd Batch Gender workshop
January through March – Membership Campaign of the Sangathan (Sadsyata Abhiyan)
We need your support to go on and to fly higher! We hope that if you haven't sent us you contribution already you will consider doing so now.
Thank You!
For the JJSS Sanchalan Samiti
Arun Yadav , Asha Devi, Ashish Ranjan, Brahmanand Rishidev, Deep narayan Paswan, Deepnarayan Paswan (Sikti), Jitendra, Krishna Kumar Singh, Phool Kumari, Ranjit Paswan, Sheoni Devi, Shivnarayan and Tanveer Alam
ashish.ranjanjha@gmail.com (ph: 9973363664); kamayani02@yahoo.com (ph:9771950248); Ranjit (ph:9771899407)
Abki Baar Hamara Adhikar
Soon after coming to power the new Government started attacking people's hard won rights. What the previous Govt. had started doing by shoddy implementation of progressive legislations like MNREGA, new Land Acquisition Act, Forest Rights Act, National Food Security Act etc., the current government furthered by attacking these very legislations. In response, several people's movements and campaigns initiated a process of coming together. Government's policy of 'Less Government' meant withdrawal or weakening of basic social services and social protection for working people. JJSS members were directly affected by these changes and became an active participant to the process. A massive rally of more than fifteen thousand people was organized at Jantar Mantar on 2nd December,2014 under the banner of Abki Baar Hamara Adhikar.
The 2nd December 2014 mobilisation on the streets of Delhi was the first big response nationally to the present Government's anti people policies relating to cuts in social sector expenditure, changing laws favouring resource loot and cheap labour as well as against the aggressive agenda of Hindutva that the RSS is operationalizing all over the country. More than one hundred groups joined the forum and presented an alternative development agenda and demands that these groups have nurtured through decades of work with people. You can read the draft statement of the Abki Baar Hamara Adhikar here. JJSS mobilized about two thousand five hundred saathis from North Bihar, who participated in the Massive Rally organized under the banner of Abki Baar Hamara Adhikar.
Read more here
Strengthening the sangathan
In 2013 the sangathan decided to end the year with a clarion call to build workers' leadership. The slogan that reverberated in the October executive committee meeting was:
जिसका मुद्दा उसकी लड़ाई! (Our Issue! Our Struggle!) जिसकी लड़ाई उसकी अगुवाई!! (Leadership in the hands of those who struggle)
संगठन में मजदूर नेतृत्व मज़बूत करें! (Strengthen worker's leadership in the organisation!)
This is our conscious effort to build 'organic leadership' with no claims of success, but, happy that every conscious effort leads to success. This year has seen four executive committee and five working committee meetings. Each of these, among other things, talked of ways to strengthen the union. As decided in 2012, for the third time we had our working committee meeting on Ambedkar Jayanti (14th April). This year we took oath to fight the rise of fascist forces.
Read more here
May day
This year May Day was celebrated in Katihar, where thousands of JJSS saathis from Katihar and the neighbouring districts of Araria and Purnea also joined. Medha Patkar, NAPM representative and leader, celebrated May Day at the JJSS 'mazdoor mela'. Like before May Day is marked by a ghumantu (mobile) mela to celebrate the victories of labour struggles all over the world. Aatish, a group of working professionals took time off their busy professional schedules to put together a play for the mela.
Read more here
National Food Security Act (NFSA) related activities
Bihar was the first state to complete the Socio – Economic and Caste Census (SECC) survey and then announce that this would be used as the basis of rolling out the NFSA. The SECC therefore became a major point of focus for the sangathan.
It is to the credit of the Bihar state Government that it also rolled out the NFSA as per schedule in February, 2014. However there were many issues in the SECC, some of which were documented in the first report prepared by the JJSS, in February, 2014. Local corruption also seeped into the SECC, where Panchayat Level Officers (PLOs) asked for varying commissions of 10 rupees to 100 rupees for distribution of SECC hard copies or copies of the SECC draft list, on the basis of which objections could be filed. In cases which were raised by JJSS members, PLOs were pressurized into returning this money.
Read more here
NREGA related activities
NREGA has suffered some major setbacks in recent times. Choking the programme with fund crunch is the worst attack NREGA has seen. It has resulted in large amounts of pending payments. Also, very few works have been opened in the financial year 2014-15. The rural development minister has gone on record saying MNREGA is stalled due to lack of funds from the Centre. Any other year, we would have put pressure on Govt. for opening works. This we are spending our energy on mobilizing for payment of pending payments instead.
It is this struggle of pending payments that led us to petition right up to the district magistrate in Araria. Finally the Deputy Development Commissioner (DDC) of the district announced block level camps (in the third week of September) for all nine blocks in Araria to solve matters related to pending payments. Interestingly the camp in Araria, turned into a satyagrah because of the non-cooperative attitude of the block level Programme Officer. Despite heavy rains on all three days over 100 people stayed the night and over 500 people would sit through the day at the block office. Foodgrains were collected in every village and khichri was cooked at the Block Office. What was amazing about the whole protest was the way it came about. There had been anger for sometime regarding non payments of wages, and when there was no response from the block administration in the camps that was announced, people who had come for the camp decided to stay back. As a result of this sit-in payments were given to workers in five Panchayats. However, two important panchayats, namely Bhojpur and Jamua, still await payments. To the best of our knowledge the district administration has asked for 10 lakh rupees each on 25th September (Rs. 10,00,000) for these two Panchayats but there is no sign of the money coming. In Raniganj block the satyagrah lasted only on day one of the camp, as the local administration was cooperative and ready to work through problems arising due to pending payments.
Read more here
Social Audits
Since 2009 JJSS has been using Social Audit (SA) as an effective participatory tool to check corruption, bring in transparency and accountability in various Govt. schemes for the poor. Large numbers of volunteers have been trained in SA mechanism in Bihar. You are already aware of our past efforts of SA in MNREGA, ICDS and Old Age Pension schemes. This year we did audit of one Aanganwadi centre in Araria RS where some of our full time karyakartas live.
Ranjit used the RTI Act to get all relevant documents. Then JJSS members along with local community members spent around 4 days verifying information about AWC No. 308 (Ward No. 6, Araria), sevika Sarita Rani and conducted a very successful audit. Since then Madhulika Swami (kamayani's mother) and Anjali Devi have started spending lot of time with the children of the aaganwadi which has led to substantial improvement.
Read more here
Building alliances
Bihar Jan Sansad: While the Bihar state assembly was in progress representatives of people's movements and campaigns held a People's Assembly (Jan Sansad) on the road at Hadtali More, Patna, from 18th to 20th February. A people's Manifesto for the 2014 General Assembly elections was also prepared and later given to all political parties. The JanSansad touched upon: Governance Issues (Anti Corruption, Transparency and accountability), State Responsibility: Social Security and Basic Services, Violence against women, Issues of the Urban Poor, cultural issues and related themes.
Read more here
Land issues
We had in our past updates talked about how different issues have been taken up in the sangathan depending on the interest of its members. For some time now the sangathan has been dwelling into land issues as it is one of the issues which engages most members of the sangathan, as most are landless workers.
In Araria the sangathan got involved in a struggle in araria nagar parishad. Here bhoodan land was allotted to 8 non-residing families while 12 families who were residing on these plots were not given land deeds. With perseverance and support from the Bhoodan Yagya committee, the battle to get papers given to its rightful owners has achieved some success.
Read more here
Buniyadi nirmaan
Last year, we conducted our first workshop with teenage girls as part of the JJSS Balika Chatravriti (girls scholarship). This experience motivated us to do more workshops with children. This year, we have conducted three overnight camps with the scholarship recipients at the JJSS training center, our first JJSS women's workshop, over 30 day camps for kids across several panchayats, and our first village-level workshop for teenage girls in Chatar panchayat. Above and beyond these numbers, a space has been established within JJSS for buniyadi nirmaan. Some of these experiences were shared on our blog: Naav meri chali and Cinema waala. Workshops on gender equity, nutrition, and health have become as important to our saathis as the struggle for NREGA or PDS. This has also enabled collaborations with volunteers like Apoorva, Kanika, and Tanaya who travelled for over 24 hour to Araria to facilitate these workshops. We are excited by the possibilities that await us in 2015.
Read more here
Accounts
The JJSS had committed to joining the rally planned in Delhi for 2nd December in thousands and this meant mobilizing both members and also financial resources. It was decided that in the executive meeting held on 15th 16th November, each active village unit would be given a donation box and asked to try and raise 2500 rupees. 50 boxes were sent out, so far 36 boxes have come back and 44,514 rupees have been collected, less than the expected amount none the less an important contribution. Other than putting in donations in the boxes saathis also raised their own travel funds and money for food stocks to last them till they reached Delhi. In addition to this we are thankful to all of you who gave us matching funds, for each box. Further accounts are given below:
| Expense | 1st April, 2013 to December 2014 | 1st April 2012 to 31st March 2013 |
| --- | --- | --- |
| Printing | 12305 | 55437 |
| Office | 175759(includes purchase of 3 mega mikes @Rs. 3700 approx) | 11990 |
| Travel | 244273 | 201014 |
| Honorarium | 217820 | 267140 |
| Commission (given on cutting of membership cards) | 2235 | 0 |
| Awareness | 15098 | 21716 |
| Photocopy | 22271 | 10075 |
| Communication | 51330 | 41767 |
| Stationery | 2456 | 1734 |
| Mazdoor Mela | 67090 | 52664 |
| Food | 30716 | 27627 |
| Misc | 4000 | 26685 |
| Public meeting | 25129 | 10445 |
| karyakarni meeting | 15468 | 8018 |
| NAPM convention | 14441 | 0 |
| Bihar Jan Sansad | 5350 | 73704 |
| Pension Parishad campaign | 0 | 26419 |
| NCPRI State convention | 0 | 17000 |
| Video and phorography | 0 | 6500 |
| | 747557 | 859935 |
Expected expenses in the next three months = 225000
Total Expected Expense = 972557/-
So far we have raised 5,00,000 rupees and another 88,000 from membership fees, that leaves us Rs 3,84,557 short of our needs to keep the sangathan going till 31st March, 2014. We would really appreciate your support. Infact it is much needed, the sangathan is growing – sangharsh and nirman hand in hand but this means more expenses and with rising 'mehangaee' more so!
Upcoming events
Taking forward the coming together of movements
Participating in the common organizing in Delhi during the budget session
Continuing sangharsh and nirman activities in the sangathan area
Strengthening organic leadership and building a caste, class, gender, minorities lense within the sangathan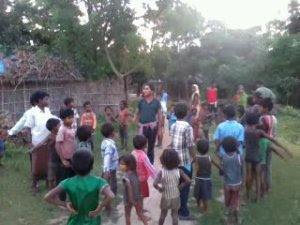 The Answers are Blowing in the Wind…
If I wonder about my share of responsibility for the death of Ram Kumar Thakur, what must Sanjay Sahni feel? I have heard Sanjay trying to cope with the murder of his friend and colleague in Ratnauli Panchayat in Bihar, and I can hear a million questions he has, that should be answered by the State, but are left to be answered by the sufferers themselves. The State and most of its functionaries have become brazen, callous and openly dishonest. Even the honest are helpless, and murder has become a pedestrian fact of life. Sanjay Sahni's story and Ram Kumar's cold blooded murder needs to be understood, if we are ever going to support the many ordinary people fighting injustice, corruption, and the arbitrary use of power; and stem the attacks on, and even killing of those fighting for justice in this country.
Sanjay, a young self taught electrician who had studied up to the 8th class, had left his village in Bihar to set up a tiny little electric service point in Janakpuri in West Delhi. He had established himself well enough to bring his bright and determined wife, and two young children to come and live with him in the big city. His children had started attending a private "English medium" nursery school, and he had dreams for himself and his family of a better middle class life.
Read more here
Struggle for 'work for all' and 'pensions for all elderly'
Dear Saathis at the Kam Mango Abhiyan (KMA) and the Pension Parishad (PP),

I am writing this mail to you to point out a sad overlap in the struggle for 'work for all' and 'pensions for all elderly'. While the Kam Mango Abhiyan padyatras were happening in Katihar, several of our pad yatra teams would call in saying that what do we do when elderly who get social security pension apply for work? With a meager pension of Rupees 200/300 and no other support system our elderly have no option but to work at MNREGA worksite. They really want this work and so we advised that irrespective of age we help people get work and job cards.

We are sharing stories of some of these elderly who applied for job cards and work, and do not even get the Rupees 200 because they are categorized as APL. These stories were put together by Shomira, a young student from Delhi University who was part of the KMA in Katihar (Bihar).

At this time having viable pensions for all elderly is much needed and it is in this context that over 200 elderly are sitting in the cold in Delhi on a dharna with these very relevant demands.

Best wishes

Kamayani

Read the stories here
Bringing justice to Ram Thakur
Ram Kumar Thakur, a lawyer and RTI activist was shot dead in Ratnauli village of Muzaffarpur district on 23rd March. No arrests have been made in well over three months. He had been actively raising the issue of corruption in his village, Ratnauli, for the last few years, including filing a number of RTI applications on the implementation of the MNREGA and IAY. Most recently, Ram Kumar had filed a case with the State Vigilance Commission on the installation of solar lights under the MNREGA raising questions on the allocation of money under the project and alleged mismanagement of funds by the Mukhiya, Raj Kumar Sahni. Details here.
Compassion: Blanket drive in the winter and the disability certification camp in Araria
What is the relationship between sangathan and compassion? Vibhore, an active volunter, has been asking this question for a long time. Given the precarious financial situation of our saathis, we are inundated by the news of life-impacting situations everyday. From roofs in urgent need of repairs before the rainy season to life-threatening diseases, the list is endless and overwhelming. But we keep trying our best, and the stories below are two of many examples that show our spirit to help is as strong as the spirit to fight for our rights. Details here.
Mobilization for universal pension
The elderly from across the country have been assembling at Jantar Mantar during every parliament session since April 2012 to demand universal pension that would enable the elderly in our country to live with dignity. In a first for the JJSS, over 1000 JJSS members and supporters boarded 4 different trains to Delhi to join a national protest organised by the Pension Parishad on 6th March, 2013. Moving saathis in such large numbers from Araria and Katihar to Delhi required a lot of coordination at our end. Details here.
The center takes shape
The JJSS has been talking about the need to politicize its members, to talk about issues other than NREGA and other survival issues which would help us understand and form a common articulation on the issues of caste, class, gender and religion. Each such effort has been in the form of meetings, held in rented spaces, sometimes with the rent reduced or written off. The plan to have a space of our own finally has taken some shape with our centre, in Araria. Built on 5 katthas (abt 4000 sq feet of land) the centre has three hutments, one being a kaccha hall that can accommodate about 200 people. Details here
Fight for minimum wage in Bihar
On 26th March, the Bihar government released a circular lowering the MNREGA wage from Rs 144 to Rs 138 per day with effect from 1st April 2013. Workers and peasants, who were already facing the blow of delayed payments in MNREGA, were shocked. It was beyond comprehension. How can any Government reduce wages? Nonetheless, it had happened. Bihar Government blamed the Central Government and pleaded innocence for paying Rs. 138.
JJSS started its struggle against this anti-poor measure in three pronged way:
Mobilisation of workers against the reduction
Petition and meeting with all political parties demanding their attention including the ministers and senior officials
Challenging the decision in the Patna High Court
Details here
Insaan hai hum
Insaan hai hum – a musical presentation by Vinay and Charul brings out different forms of social, communal, and development led violence in our society and appeals to our inner beings to reflect and question the hate and violence within and around us. It is an appeal for peace and justice. The programme in Araria was organised at the Town Hall on 9th Feb, 2013, also the birth anniversary of play-write Brecht. Though the acoustics were poor and not the kind of quality saathis Vinay and Charul needed, Charul and Vinay sang to an audience of over 500 people seated and an equal number who stood on the sides, people who came to see and stayed to attend the entire programme. The programme ended with a candle light vigil. Details here.
India Untouched on Ambedkar Jayanti
The JJSS has decided to organise its karyakarni meeting every year on Ambedkar Jayanti, this 14th April, was made special by the screening of India Untouched, a film made by Director Stalin, over a period of ten years document acts of untouchability across the country. The film was screened during a special session of the JJSS working committee meeting on the occasion of Ambedekar Jayanti. Including some special invitees, there were nearly hundred attendees at the Karmchari Sangh Hall, Araria. Read more here.
NREGA and related activities
Saathi Ranjit was active in organising a kaam maango yaatra in Forbesganj block of Araria in June this year. Large scale works are supposed to be opened on 15th October every year. To make sure that these works get opened, our saathis have already prepared unemployment allowance (UA) letters to ensure that there will be pressure on the administration to open works as soon as possible or they will be liable to pay UA. Along with the Manoranjan Jha Trust the first ever kaam maango padyatra was organised in Saharsa, with saathi Arvind (a young activist from Patna) and Shivnarayan taking the lead. So far, we are waiting for 15th October to see some first real works open in Saharsa. Details here.
Building democracy and linkages outside
Resources are an important part of building a vibrant and democratic organisation. A panchayat level initiative of Gram Panchayat Chitoriya has set a new and much needed trend. The units in Mohanpur and Chitoriya had been facing a lot of trouble at their local PDS outlet (ration shop). They were like in villages all over Bihar being given less ration and being charged more. In a local attempt to set things right saathis decided to sit-in at their local shop till right amounts at right prices were distributed. The SDO was supportive and on one such occasion the BDO visited to ensure fair distribution at correct rates. At the fifth shop the response was again the same resistance. So this time residents of Chitoriya decided to collect donations from the entire village and send them to the Government to let them know that workers too had dignity and would not take rations as a dole but only as their right! Details here.
Buniyadi nirmaan
Our last update ended with the news about the small but important start we made regarding JJSS children's club in Araria RS. Since then, the club has grown in leaps and bounds in both the number of activities and membership. Any given Sunday morning, there are over 50 children waiting excitedly for the 2-3 hours of fun and learning. The club prayer is now in the memory of a few of the kids though they did not rote learn but just repeated it with the club facilitators over the many Sundays we spent together. "Swayam vidhata ho hai manav, antar mein vishwas jagao. Chalo na mitte padchinhon par apne raste aap banaao." Our kids can make make lines or circles, to play games, more easily, no adults are needed to organize them into lines and circles, may not sound like a big achievement, but it brought tears of joys to one of our facilitators, who has been there from the first club. Details here.
NCPRI State Level Convention 25th Sep at IMA Hall Patna
JJSS played a key role in organising the first state level convention of the NCPRI in Patna. Nikhil Dey and Sandeep Pandey were the main speakers. The day started with songs of people's struggle and "Jaane Ka haq". Slogans like
"हम जानेंगे हम जियेंगे", "हमारा पैसा हमारा हिसाब", "कमाने वाला खायेगा लूटने वाला जाएगा नया ज़माना आएगा" were raised throughout the day emphasising the basic soul of the RTI act and its struggle. A public hearing on the attack on the whistleblowers and information seekers was also organised the same day. A large number of delegates (400+) from all over Bihar particpated in this day long convention. 10 resolutions were passed in the convention. details here
Bagaha (west champaran) Police firing
On 24th June 2013 six people were killed and several others were injured when police fired on people in Kataharba village (Bagaha) who were demanding recovery of the body of Chandreshwar Kaji who went missing on 15th June night. A four member fact finding team of NAPM which included two members of JJSS visited Bagaha on 30th June and met the family members of people killed and injured persons. Attached is the report on the killing.
Sangharsh on MNREGA and other Updates

Summer is the most active period for NREGA as lack of agricultural work makes employment provided through NREGA as the sole means of sustenance for majority of our members. Thus, a large portion of our time is spent in ensuring proper functioning of the scheme, including demand registration, opening of works to cater to this demand, tracking and resolving payment issues. [Click here to read about the padyatras, the firing of Jokihat P.O., the maha-ralla in Katihar, its fall-out, the battle in Parihari, the late payment survey, JJSS mobile radio, moving beyond NREGA, and more...]
Building Democracy within
Maturity of an organization can be measured by the way information flows in it and how it leads to the decision making process. Our vision for JJSS was to create a decentralized system where decisions are made at the local level, based on a two-way information flow from rest of the organization. The last update mentioned the formation of the first unit in Choukta; we are now over 26 units strong and closer to the vision of decentralized planning and local decision making bodies. [Click here to read about the karyakarni meeting, the distribution of sangathans' flags, the evolution in sangathan's membership drive, and more...]
Politicization of workers
'Bin lade kuch bhi yahan milta nahin yah jaan kar, ab ladai lad rahe hain log mere gaon ke'
This year we made a concerted effort to reach out to our saathis and talk about the various divides along the lines of caste, gender, religion and class. To get there, we used creative mediums like drama and songs to depict the realities of our lives. We also made some innovative banners comparing salaries and other benefits of Government employees vs. NREGA workers, which had stuck in the mind of saathis who had seen similar banners made in the Rajasthan Mazdoor Hak Satyagraha of 2009. [Click here to read about our first drama workshop and book release, watch our saathis perform, how we are overcoming gender and occupational divides, and more...]
January 23rd, 2012 : Thousands of workers associated with the JJSS marched through the streets of Araria town in support of the Lok Shakti Abhiyan. Slogans like 'ladenge! jeetenge' 'office office bhrashtachaari' 'duniya ke mazdooron ek ho' 'kamaanewaala khayega! Lootanewaalaa jaayega! Naya zamaana aayega! Kaun laayega hum laayenge!' 'har haath ko kaam do!kaam ka poora daam do!'' 'hum sab! Ek hain!' filled the air. You can capture a glimpse of the rally here
The rally started from the Town Hall grounds in Araria. Before the rally the situation of those gathered was illustrated by the fact that when the gathering was asked 'How many of you donot have agricultural land?" and 'How many are waiting for their MNREGA wages from over two weeks?" almost all three thousand hands went up. It was clear that the poor, marginalised, landless workers of Araria were working for a government which was too poor to give them work or wages on time but just rich enough to implement the Sixth Pay Commission for it's employees, making wages of one principal secretary over 1,00,000 rupees a month, about 3300 rupees a day as against the wage of 144 for unskilled manual labour. And this is where the immense support from the JJSS for the lok shakti abhiyan, which among many issues has questioned where the principle of equality and socialism that was to guide the Indian nation according to the constitution has gone. This is especially relevant today on 26th January 2012… sixty two years after the Indian constitution was enacted and the preamble of the Indian constitution was given as …
"WE, THE PEOPLE OF INDIA, having solemnly resolved to constitute India into a SOVEREIGN SOCIALIST SECULAR DEMOCRATIC REPUBLIC and to secure to all its citizens:JUSTICE, social, economic and political;

LIBERTY of thought, expression, belief, faith and worship;

EQUALITY of status and of opportunity;

and to promote among them all

FRATERNITY assuring the dignity of the individual and the unity and integrity of the Nation;

IN OUR CONSTITUENT ASSEMBLY this twenty-sixth day of November, 1949, do HEREBY ADOPT, ENACT AND GIVE TO OURSELVES THIS CONSTITUTION."
The rally culminated in an aam sabha held at the Town Hall Grounds, Araria. The aam sabha was addressed by those travelling with the Abhiyan from outside Bihar, Madhuresh (National Organiser, NAPM), J P Singh (Samajwadi Jan Parishad, UP), Rajendra Ravi (Delhi) and Roshan lal Agarwal (Chattisgarh). Other saathis travelling with the yatra included Pushpraj, Nagesh Tripathi, Arjun Singh, Thakur Devendra, Ashu, Amar and Ashok ji. The rally was also addressed by victims and survivors of the Forbesganj police firing Md. Farooq Ansari, Bibi Tahiran, Md Anjar Alam and Dayyan (Anhad). On 24th Jan, Medha Patkar, who couldn't make it to the Araria meeting on 23rd, met the people of Bhajanpur. You can watch her interaction here
In this age of growing inequality, corruption, centralised planning the Lok Shakti Abhiyan was started by the NAPM (National Alliance of Peoples' Movements' on December 20th, 2011 and reached Bihar in it's third phase on January 23rd, 2012. Though senior activist and national convenor of the NAPM Medha Patkar was also scheduled to come to the rally and aam sabha organised in Araria, she was unable to reach as she was delayed by a series of three accidents she met with. Medha ji escaped unhurt but was thrown out of schedule. In her address to the rally over the phone, she promised to be there in the future.
Social Security Pension Social Audit and after
Scheduled to be held in July-August, 2011 the pension social audit could not be done as scheduled because of non-availability of information. Due to a positive intervention by Mr. Paundrik, one of the few responsive officers in the current administrative hierarchy, the information related to the SA was finally made available in December, 2011 and the social audit was done in the transition from 2011 to 2012, and the final public hearing was held on 5th January, 2012 in Araria RS High School Grounds, Araria. The social security entitlement in these pension schemes is a paltry sum of Rupees Two Hundred per month to the old, physically and mentally challenged and widows. And there is cheating and fraud in even in this paltry amount. The SA team found that over five lakh rupees shown as given to the beneficiaries in the last six months, had actually never reached the beneficiaries. The Post Master in whose period these transactions were done was known as a drunkard and died in June, 2011. He had not maintained any ledgers in the post office and this was over looked by the then postal Inspector, who has since been promoted and has moved on to Purnea Head Office. Even though beneficiaries complained about the bad behaviour met out to them by the local staff Mr. Baldev Sah, no action was taken on the day of the public hearing even when the entire public hearing happened in front of the Sub-Divisional Officer (SDO), Araria and representatives of the Postal Department, Nagar Parishad and Social Security cell, Araria. A complete report highlighting the findings is attached. Megha Behl a Masters student from Delhi, who volunteered in the Social Audit exercise has also written a small report (attached) The only disciplinary action so far has been that Sri Baldev Sah has been suspended and an enquiry is being undertaken by the Postal Department.
On the day of the public hearing a camp was announced to receive applications from those who were eligible for the pensions but had been left out. This camp was held by the Nagar Parishad on January 20th, 2012 and over 400 applications were received. About 10 nagar parishad karamcharis worked non-stop receiving applications from 10.30 am to 4 pm, and over two local volunteers helped people on filling applications and attaching complete documents. We shall keep you updated on the progress of these applications.
thank you,
ranjit, shivnarayan, kamayani, arvind, jiten and ashish
Social Audit Reports
The ICDS reports have been uploaded at: http://goo.gl/6q4bs (under ICDS_blockwise_reports). Please let us know if you have any issues in accessing the same.
Social Audit of MNREGA, ICDS and Old Age Pension Scheme: May-August 2011

Encouraged by the success of 2010 social audit of MNREGA works, the Araria district administration decided to conduct social audit of MNRGEA, ICDS and Old Age Pension Scheme in summer of 2011. The District Administration has issued an order to this effect. This is one of its kind audit as it is probably for the first time in Bihar that such audits of ICDS and Old Age Pension Scheme are being conducted. One Panchayat in each of the nine blocks of Araria has been identified by the district administration for the audit. The audit started in may and shall continue till the first week of August. JJSS has mobilised groups and volunteers from different parts of the country to participate in the process. A very successful orientation meeting was held on 26th May in Araria. The meeting was attended by JJSS, PHRN, Advisor right to food case, Student volunteers and the district administration.
Mazdoor Satyagraha, 5th February, 2011
Cooperate where you can
Resist when you must
जहाँ संभव हो वहां सहयोग करें
जहाँ ज़रूरी हो वहां विरोध करें
M. K. Gandhi
I. Over three thousand people gathered at the MNREGA block office in Araria Block, Araria district. By 12 noon most people had reached the office from far away villages of Araria block. Many people had come walking or on bicycles, while some had hired tractor trolleys to reach the block, but as luck would have it a furious accident had blocked their way, undeterred hundreds left their vehicles in the jam and walked all the way to the block.
The primary focus of the block level satyagrah was the Non-Payment of Unemployment Allowance which was sanctioned in April, 2010. In 2008-09, over 800 workers, of five panchayats in Araria Block, Araria district, had applied for work under the MNREGA. . Their demand was not met and that forced the workers to apply for unemployment allowance. Even this demand was neglected at the district level. The sangathan pursued the matter and it finally reached the secretariat. The Principal Secretary, RDD, passed a progressive order in April 2010, to give the workers their due. However, till Feb 5, 2010, only 48 workers (around 800) had got the unemployment allowance and rest were still unpaid. The Araria administration had been approached repeatedly in this regard but only got false assurances. The sangathan decided that it was time we raised our voice against this injustice. In addition to this demand was the demand for MNREGA entitlements.

The satyagraha was also to mark the 5th anniversary of the MNREGA and was part of the day of action organized by many organizations across the country for proper implementation of the NREGA and for expansion of the MNREGA entitlements. The Jan Jagaran Shakti Sangathan (JJSS) as part of this larger movement for Employment Guarantee demanded:

MGNREGA wages must be reconciled with the Minimum Wages Act. Further minimum wages must be calculated as per the tenets fixed in the 15th ILC and the SC order in the Raptakos Brett case (1991) and linked to consumer price index.
Ensure delivery of all 10 MGNREGA entitlements including those of compensation for late payment, unemployment allowance, and penalties against erring officials.
Employment guarantee in urban areas in a framework that also recognizes the rights of the self-employed
Increase the number of days guaranteed under MGNREGA to 200 days.
Change the entitlement of the number of days from the family to the individual.
The ombudsman initiative has been a non-starter in Bihar. Therefore, along with appointment of an ombudsman, a functional grievance redressal system with provisions for imposing penalties, and awarding compensation, must be ensured at a District level.
In addition to the above national demands, the sangathan also had demands specific to Bihar, especially Araria district:

Large scale works need to be taken up under the MNREGA, especially with line departments like the Irrigation Department, the Forest Department, Flood Control Department and others. Currently these departments are engaged in large scale works through contractors. Small scale works that are being opened under the MNREGA are unable to address the large work demand in our panchayats, leading to generation of a few days of work and then long periods of gap, leading to discontinuity and uncertainty.
Each worker be issued a wage slip, for payment of wages and also entries be made in their job cards.
A mechanism for payment of compensation, in case of delays in payment should be put into place. In violation of the Act, cases of delay of payment of wages are common in Bihar.
At the Satyagraha, the Programme Officer, addressed the gathering, with earnestness but was unwilling to give concrete assurances. The satyagrahis stayed on without any food refusing to go without a written assurance. Around 8 pm the JJSS team organized gur, choora and mudi for all. It was heartening to see the administrative team share this snack with all the workers.

The steely resolve of the Satyagrahis, forced the administrative team to work on an acceptable resolution. Finally around 10 pm the PO agreed to give a written assurance. He gave in writing that orders, on specific dates, would be issued from his office with the exact amount of allowance. Reassured the workers called off the satyagraha at this late hour. Earlier an 8 member delegation from the Satyagraha had also met the DM to give the petition of demands.

As promised the orders for giving the unemployment allowance to workers of Gram Panchayat Bhojpur were given by P.O. Araria on 10th February, 2011.
Kam Mango Padyatra, 18th-21st November 2010
JJSS organized its 6th 'Kam Mango Padyatra' from November 18th-21st. The Padyatra had six stops in three Gram Panchayats namely Chatar, Chilaniyan and Bagnagar. The padyatra had three main objectives.
Unionising workers on the NREGA entitlements

Spreading awareness about the NREGA

Motivating workers to apply for work
Altogether 500 workers applied demanding sixty days of work. Panchayat Rozgar Sevaks of Chilaniyan and Bagnagar Panchayats were present at the public meetings and accepted job card & work applications. There were fourteen padyaatris including representatives of Ekta Praishad, Bihar.
Social Audit in Araria (May6th-July 18th 2010)
Jan Jagaran Shakti Sangathan and the araria district administration jointly conducted social audit of one panchayat in each of the 9 blocks of Araria. The first audit was conducted in December 2009. The rest 8 audits were conducted between May 6th and July 18th 2010.
Students from different universities of the country particpated in the audit. Without them the audit would not have been possible.
In all the audits people participated in large numbers and NREGA became a hot topic of discussion leading to increased awareness about NREGA entitlements. It was the first time that the panchayat opened its records about the expenses in the gram sabha.
Summary of the audit
• 9 of the 74 works were found to be ghost works, with no work done on the ground
• Transparency safeguards being flouted with boards present on only 27% of the total worksites
• Fake Muster Rolls found on 70 of the 74 worksites audited • Rs. 79 of Rs. 100 shown as spent on labour in the Muster Roll never reached workers named on the MRs. This fraudulation was found to be more than 90% in Chaukta Panchayat of Jokihaat Block and Halhaliya Panchayat in Forbesganj Block.
• Based on the social audits it is recommended that 42% of the total amount audited (Rs. 93,31,952, Ninety Three Lakhs Thirty One Thousand Nine Hundred and Fifty Two) needs to be recovered.
• In all audits it was found that money has been withdrawn from people's accounts without their knowledge or consent.
JJA Update/Report, April 7th 2010
Highlights of this update:
Action Taken Report on Jamua Social Audit (30th December, 2009) - A promising start! (

download ATR

)

Workers get their due minimum wage in Mansahi Block (Katihar)

Post Master (Maryganj Post Office, Raniganj, Araria) returns the unjust money he had kept from workers

Appeal for financial contribution
download the full report
Social Audit in Jamua, Araria (23rd December 2009):
(Above: A list of NREGS works carried out being read publicly )
For some time we have been asking the district administration to conduct a social audit along with us to assess the implementation of NREGA in Araria and to bring transparency in the system. The district administration agreed to conduct a social audit in Jamua Panchayat on 23rd december, 2009. This was a new begining in Bihar as social audit in this manner has never been conducted in Bihar. Below is the press release of the event and link to media reports/articles.
Media Report Links:
Social auditing reveals Jamua's dismal show in MNREGS
NREGA Social Audit of Jamua Panchayat, Araria District, Bihar completed successfully
Violence erupts during public hearing
Patna, December 27th, 2009:
December 23rd, 2009, was a special day in the history of NREGA in Bihar, for it was the first time that there was a social audit exercise in Bihar where the district administration along with a people's organization (Jan Jagaran Abhiyan, Bihar) organized a SA of NREGA works (2008-09) in Jamua Panchayat of Araria district. One hour into the public hearing violence erupted in front of the Block Development Officer and the Circle Inspector, with the mukhiya's (elected representative of the Gram Panchayat) men brutally attacking a ward member, who was encouraging a local resident to speak honestly about the injustice of receiving lower wages than those recorded in the muster rolls of NREGA works. The scene seemed out of control, the latent violence in Bihar had erupted but the scene changed, as the SDO arrived with the police force, and what followed was a successful hearing in which various malpractices, irregularities and corrupt practices were unearthed based on the courageous statements of panchayat residents.
In all 3 social audit teams went around Jamua Panchayat of Araria block (Araria) to verify NREGA records for 11 works (worth Rs. 8.6 lakh rupees) done in the period of 2008-09. The teams were composed of student volunteers, local residents of Jamua and neighbouring areas, karyakartas of the JJA and volunteers from other parts of the country. One of the team members Ram Rai, a member of the Mazdoor Kisan Shakti Sangathan (MKSS), Rajasthan who was helping in the SA said "I am shocked to know how little money comes into Bihar panchayats back in rajasthan about 3 crore rupees come every year to my panchayat to cater to the labour needs of about 3500 job card holding families of my panchayat."
The SA exercise started on December 8th, with the administration providing all the relevant information needed for the SA exercise, the JJA team in it's turn collated the information in a form understandable to the people and took it to the village residents, encouraging, persuading, and mobilizing them to participate in the social audit process. The result was that at the end of a week's outreach over two thousand residents of Jamua Panchayat attended the final public hearing and deposed in front of a panel consisting of administrative and civil society representatives.
During the days events it was found that fake muster rolls, bills and vouchers were the most common ways of siphoning money from the NREGA funds. The faults in the records were so glaring that it became obvious that the wrong doers had never braced themselves to face a people's audit exercise. For example names of about 50 people were found on the muster roll and investigation showed that these 50 did not even belong to Jamua. Brijlal Das, one of the 50 named in the muster roll came to the hearing and said "I never worked in NREGA projects in Jamua Panchayat yet the muster roll has my name and money was taken out from the post office using fake signature". In another glaring case of corrupt practice the records claimed that Sampatlal Pokharia had supplied tent (for shade at NREGA worksites) worth Rupees 10,200 but Sampatlal in his affidavit given to the SA team said had never supplied tent to any NREGA site in Jamua.
One of the major issues that came out of the public hearing and official records was that 76% of the 1710 job card holders of the panchayat did not even get one day of work in 08-09.
Government representatives (SDO, BDO and CI) reassured the audience that action would be taken on erring individuals, the same reassurance has been given by the District Magistrate (DM), Araria, Mr M Sarvanan.
Ashish Ranjan and Ranjit Paswan
(for the Jan Jagaran Abhiyan)
Contact Number: 9973363664
Update after Mansahi Padyatra:
People get work after pressing for demand but have to travel 13kms to the workplace:
In our last email communication we had invited you to our padyatra in mansahi block of katihar district. We would like to share with you some recent developments following the padyatra.
Work Applications Not Accpeted at Panchayat Level:
During the mass contact and awareness program of the padyatra it

was more than evident

that majority of households had not got work even though they were keen to do NREGA work in their panchayats. People also complained that they don't get to know when and where works are opened, it is only after completion of works that they realize work was done in their panchayat. The JJA team composed of volunteers from Araria and panchayts where the padyatra was held motivated and helped over 900 workers to apply for work under NREGA.
300 people had to ghreao block office to get applications recieved:
Similar to our experiences in Araria workers were unable to get their application recieved at the panchayat level. In each of the panchayats enthusiastic workers approached their panchayat rozgar sevak (PRS) only to be rebuffed by them. Given the reaction of some of the PRS it became clear that the only way for workers to be heard was through collective action.

On 30th october 2009 about 300 workers participated in a day long dharna and demanded that their application be recieved and works opened. More workers applied for work on the day of the dharna and at the end over two thousand workers had applied for work and were directed to join work from the 9th of November 2009.
Workers at the Dharna, Mansahi Block Applications were recieved
Promise not fully kept:
On 9th November only one worksite was opened as against the promised three worksites.When contacted on telephone the program officer of mansahi block said that the other two sites would be opened within two days.
A long walk of 13 Kms:
Chitttoriya panchayat workers who had come in large numbers to the block dharna were asked to join work at this worksite which is 13 kilometers away from their tola. There is no conveyance available to reach the worksite and hence many workers are either getting left out or having to do a rigorous walk to the worksite. Those who have cycles are still able to manage the 26 kms up and down.
Given this scenario Chittoriya Panchayat workers are presenting the following demands:
1. Works be opened in Chittoriya Panchayat
2. Till the time work in not opened in Chittoriya Panchayat workers be given travel allowance as per the act.
3. Post office/bank accounts for many workers are still pending which would lead to delay in payments and therefore accounts need to be opened in a camp mode.
4. The work that has been started is a road which is not seen useful by the local residents and workers on the site. Therefore more useful work needs to be started.
Marangi, Pulhara and sahibnagar panchayats where works have not been opened demand that works be opened by tomorrow (11/9).
If the demands of all the above panchayats are not met the workers will be collectively visitng the block office on 12th november 2009.
We hope that we will have your support and solidarity for what may turn out to be a long struggle. We will keep you updated.

In solidarity,

Kamayani, Ranjit, Ashish, Jitender, Deep Narayan and Shibu

Jan Jagaran Abhiyan, Azad Nagar, Araria
ph: 9771950248
Kam Mango Padyatra 2009

Dear Friends as you know the Jan Jagaran Abhiyan has been actively working in Bihar, specifically Araria district spreading awareness about the NREGA and helping workers to organise to get their entitlements under the NREGA. Our first Padyatra was held in November 2008 and since then two more padyatras have been organised in Araria block, Araria district, this is the first time that we are venturing outside Araria district for a padyatra in an effort to increase the organisation's outreach and base.

The 'kam mango padyatra' is being organised from 5th October to 8th October, 2009, in view of the large scale opening of earth work after the monsoon break till 15th October, 2009.

We invite you to join us in this padyatra in Mansahi block of Katihar district.

As you know the JJA is a people's organisation which runs on individual donations and we would appreciate getting any financial contribution from friends, supporters and wellwishers. For more information about the Abhiyan please do take a look at our website jjabihar.org which has been put together by some friends.

Note: Katihar can be reached by train directly from Delhi and Patna by Seemanchal Express. We would suggest all those wanting to join the padyatra to reach by 5th morning. Katihar can also be reached directly from Calcutta by train. If you are coming from any destination not lying on these routes please contact us. We will assemble at Katihar junction at 2 pm on the 5th.

Zindabad!

Kamayani : 9771950248, Ashish : 9973363664, Ranjit : 9771899407
Click here to download
JJA Padayatra:
Padayatra took place in five Panchayats of Araria block between 16th and 21st November 2008. The plan for the padayatra was

Spread awareness about the National Rural Employment Guarantee Act (NREGA)
Mobilise people to start demanding work, as the Act clearly states that workers will be given work when they ask for it.
Increase the mass base of JJA.
More>
Rozgar Diwas Protest:
he first padayatra in November focused on spreading awareness about the NREGA and also motivating workers to apply for work. Post Padyatra workers tried getting their applications received at the GP level, failing which a collective meeting with the PO was conducted on December 12th, 2008. The PO received work and job card applications.
Clockwise: Rozgar diwas, workers ask for work at GP Sharanpur (29-12-2008) and GP Kismat Khawaspur (28-12-2008)
Even when the NREGA states that workers demanding work should be given work within 15 days of their demand no works were opened even when the 15 days were over. Given this scenario workers and JJA supporters gathered at the 4 panchayats, on 29th December 2009, where they had asked for works with the slogan "kaam nahin to bhatta do".
More>
Updates:
31st January 2009: Work started in Jamua GP, but disrupted by Mukhiya and Mukhiya pati, with their supporters. Next 5 days works opened but each day a new problem is faced like work venue is shifted almost daily, no muster roll is kept on site, workers report for work but are asked to come the next day.

Work also started in GP Chikni but stopped after 5 days.

2nd February 2009: A few elected representatives of Araria block convened a meeting, in Araria Dak Bangla, at which a one sided discourse against the activities of the JJA was made by the Jamua Mukhiya.

7th February 2009: So far works proportionate to demand have not been opened in any of the 6 panchayats from where demand has been made and no communication on the unemployment allowance has been received from the administration.

We were able to raise this issue of Araria block at a Jan Sunwai on NREGA held in Patna on February 9th, 2009, also attended by the Principal Secretary, Rural Development, Bihar Government. We were disappointed to hear the Principal Secretary say that the district administration had informed him that workers who had applied for work don't turn up for work when notified. However the silver lining to this dark cloud is that the Secretary also informed us that he did not believe the reporting and would send a team from Patna to look into the matter.

So far things look well, given the MP, UP and Jharkhand experience where workers struggles have resulted in granting of unemployment allowance we are optimistic that our struggle will also meet a positive result. But at the same time our priority is to get work, a dire need in this high migration area. Once works open we are also planning to see how quality of works can be improved and useful works done and gram sabhas made functional to ensure this.
Sangharsh Buland Hai, Nirman ki Tayyari Hai !
Latest developements:

Works were opened in all the six panchayats where workers had applied for work (around December 2008), our rough estimate is that works worth 18 lakhs were opened in these panchayats, after the jaanch (16-17th March).
NREGA Works opened in JJA mobilized panchayats
Post Office accounts were opened in places where they had been pending for a long time. For example in Jamua GP no NREGA accounts had been opened till the time of the jaanch, but over 400 accounts have been opened since, meaning payments to workers can be made in these GPs without glitches.

Pending payments were made for works in Sharanpur and Jamua Gps.

These developments came at the end of a long journey, some of which you are already aware of and the rest follows…

As you may recall, from the last update, in a public meeting held on 9th February, 2009 in Patna the Principal Secretary, Rural Development, Bihar Government in a public forum said that the Araria district administration had stated that workers who apply for work under NREGA are not interested in working and so when asked to come to work they do not report. The Principal Secretary at the same time had stated that he did not believe this claim of the district administration and planned to send a 'jaanch' team to Araria to find out the truth.
Report from District administration:
Our first focus then became getting a copy of the district administration's report to the Department of Rural development, Bihar Government. The report, which we got a couple of days later, was a clear attempt at maligning the JJA and rubbishing the whole demand for work under the NREGA as a manipulation by the JJA. The report sent by the District Magistrate (DM), based on the report of the Programme Officer (PO), NREGA of Araria block was sent a day after our collective protest at the Araria NREGA office on 29th January, 2009. Below is a table giving the claims made in the administration's report and an attempt to give the true picture from the JJA's end:
Administration's claim
JJA's rejoinder
1.1
a
Workers want cash payments and therefore they non-cooperate in opening of accounts.
Workers give complete cooperation in opening of accounts, administrative and systemic failure is responsible for the slowness in opening of accounts. Also many representatives and officials who realize that accounts are a way of stemming corruption are not interested in payments being done through accounts.
1.1
b
Workers who apply for work donot want to work but just want unemployment allowance.
Workers of Araria do not want money without work, they want to work and want full payment for the work they do. There is no proof with the administration that any worker provided work refused to come to work. In fact the truth is that workers wanted work but work was not opened for them as per the requirement of the Rural Employment Guarantee Act.
1.2
Panchayat Rozgar Sevak (PRS) is available in the Gram Panchayats (GPs) to receive work applications.
Our aim from the beginning has been to spread awareness about the NREGA. JJA's priority is to ensure that workers get work as per NREGA, in turn ensuring village development. However we do believe that unemployment allowance should be given as per the mandate of the NREGA so that guilty officials are held accountable for their failure and are warned that such callousness would not be acceptable in the future.
2.1
The JJA instigates people to not work but try and get unemployment allowance.
Our aim from the beginning has been to spread awareness about the NREGA. JJA's priority is to ensure that workers get work as per NREGA, in turn ensuring village development. However we do believe that unemployment allowance should be given as per the mandate of the NREGA so that guilty officials are held accountable for their failure and are warned that such callousness would not be acceptable in the future.
2.2
The JJA organizes people under the banner of the CPI
The JJA is a non party political initiative. However, workers and supporters of JJA may be involved with party politics outside their work with the JJA. The JJA supporters come from a broad spectrum of party political leanings and these donot influence their work with the JJA. However, the JJA is not a front for any political party.
2.3
The JJA pays for people's travel and food to come and protest at the block level, to disturb the administration.
So far workers have been involved in two collective efforts at the block level (held on December 12th, 2008 and 29th January, 2009, events we have talked about in our past updates) and they have had to pay for their own transport and food. This is a conscious choice of the Abhiyan as it believes that the issues being raised in the Abhiyan are workers issues and they should therefore find a way to support their own cause, rather than become dependent on external donations.
Given the falsity of the report, we decided to take the report to the workers of Araria block. We spent days in our panchayats sharing the details of the reports. As an annexure to the report we found copies of two Gram Panchayat (GP) Mukhiyas stating that supporters and karyakartas of the Abhiyan like kamayani, ashish, Ranjit and Mahesh ji were 'asamajik tatva', meaning anti-social elements, and we shared these too with the workers and village residents. Sometimes the workers just laughed 'kaam nahin karna chahte to Punjab haryana kyun jaate' (If we did not want to work why would we go to Punjab-Haryana) but some things made them angry, for example the allegation that JJA had paid for their visits to the block, made many workers angry for visits to the block meant expenses that had to be covered by workers with little income, or long walks and cycle expeditions. After the sharing we would inform everyone about the upcoming jaanch from Patna.
An Unpardonable Shame
During one of our stays in Jamua Panchayat, we came to know of a sad episode in which the PO, Araria block had used fraud to scare workers of the panchayat to sign on some papers, supposedly stating that they did not want unemployment allowance and had only applied for work on the insistence of the JJA.

On February 5th a few workers from Jamua Panchayat went to an ongoing NREGA worksite. They were amongst the 48 workers who had applied for work but had not got work. They wanted to find out when they would be given work. The NREGA PO was also present at the worksite. In response to the workers queries the PO told them that JJA karyakartas, (Mahesh Kumar and Ranjit) had been arrested. He then rang up someone and put his phone on the speaker. Workers heard someone from the other side pleading for his release. The PO claimed this was Mahesk Kumar, a JJA supporter who had been active in mobilizing workers under the JJA banner. The voice said "mujhe maaf kar dijiye, mein phir aisa nahin karoonga, meri betiyon ki shaadi honi hai …". The PO then said that a case had also been registered against the 48 local workers but he would ensure that the case was revoked provided the workers signed certain papers. Scared by what they had heard on the phone and believing the PO, the workers signed on papers provided to them by the PO. The PO then took one of them on his motorcycle to his village and got some more of the 48 workers to sign these papers, till a local worker started questioning the PO. Having got some 7-8 people to sign the PO then left the village.

We made the district administration aware of this episode, but did not hear back from them. At the same time we had sent a copy of this letter to the Principal Secretary wanting to be sure that the jaanch team would have a clear idea of the ground reality when they came to Araria.
The jaanch and Work our priority
While the talk about the jaanch started in early February, the jaanch team would take longer to come to Araria than we thought. Around 9th March a little jittery that while the jaanch team was not visiting Araria no effort was being made by the block administration to open NREGA works and meet the local work demand, we decided to meet the Principal Secretary again. We went to talk to him earnestly emphasizing that people wanted work while the jaanch could happen at it's own pace works needed to be opened immediately so that workers could get some work before works for the year 2007-08 were closed on 31st March.
Chandrama Singh, DDC Saharsa during Jaanch in G.P Kismat Khawaspur
As before the Principal Secretary's response was very positive and it was arranged that a jaanch team was organized and sent to Araria immediately. On 16th March members of the jaanch team arrived in Araria. The jaanch was transparent and JJA representatives were present during the jaanch procedure. We are not completely satisfied by the jaanch report. Though it pointed out the irregularities of the local administration, it failed to make a case for people's entitlement to unemployment allowance and did not attempt to look into the intimidation used by the PO. However as of now the state administration has asked the DM Araria to identify those who are responsible for the irregularities found in the jaanch and take action. The state office has also promised us action against those responsible.

We see the jaanch as a fruitful exercise that has finally led to the opening of works in the GPs where a clear demand for work was raised. This is a signal that people's demand will be heard provided there is a collective action and perseverance, combined with administrative responsiveness.
Future Actions
Mobilisation for work: The JJA has planned to mobilize for the next round of work under the NREGA for the year 2009-2010. The next padyatra is scheduled in the next few days and will target to reach new tolas of GPs we already have a base in.

Observing worksites: We have tried to keep a record of the works opened in the GPs where works were opened after the jaanch. When we made a tally we found that none of the 14 worksites where works were opened had muster rolls on the site, when JJA supporters and workers visited, though attendance is to be taken only in the MR and the MR is to be kept at the worksite, according to the Act. Boards which are mandated in the Act, were found only on 5 worksites and facilities to be provided under the Act, like drinking water, medicines, shade and crèche for worker's children below the age of 6, were found to be missing at most worksites. These lacunas are discussed with local workers and residents, making them aware of the gap between their entitlements and the reality. Moreover the local administration is also made aware of the situation.
| | |
| --- | --- |
| | |
| Board at a worksite in GP Bangama | A Board in GP Sharanpur, giving more complete information |
Nirman activities have as yet not picked up and their has been no special focus though it is a plan in our minds and we hope something more concrete will happen in the days to come.